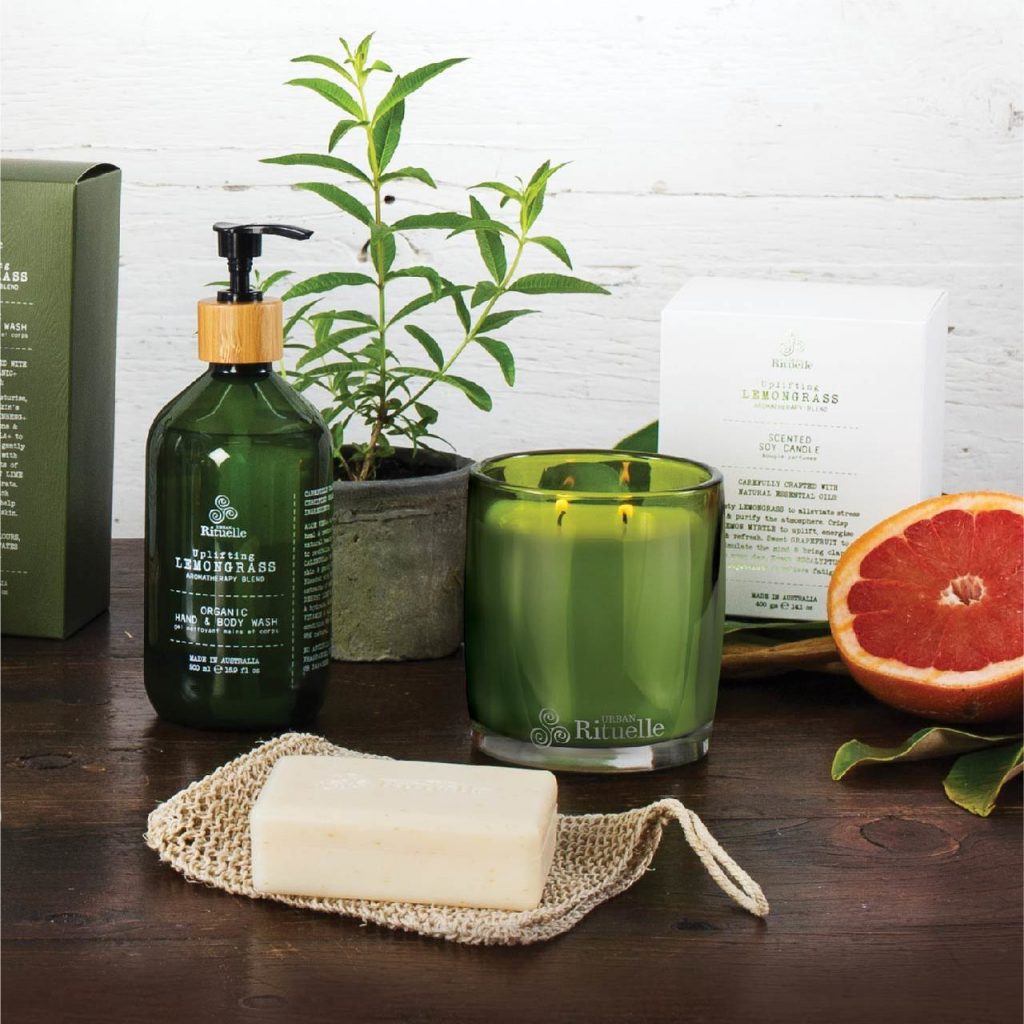 What sets them apart from other candles?
These beautiful scented soy candles are manufactured in Sydney, Australia. We know that Australian made products not only have an exceptional reputation in Australia but also around the world. The economy is slowing in many area of the world so people are looking to back local businesses and support our own economy. Australia is known for producing some of the best products in the world. We are proud to work along side some wonderful brands.
Urban Rituelle are continually researching the most advanced candle manufacturing technology to ensure customers receive candles of unparalleled quality and safety and of course, what we all love….. longevity. There is nothing quite like lighting a scented soy candle to create a fragrant sanctuary that will ignite your heart and mind and awaken our spirit. The burn time of the 400g candle is approximately up to 80 hours. They come beautifully gift boxed and are never tested on animals.
We love the fact that the wicks used in these candles are made from natural cotton fiber. This ensures a safe clean burn. The size of the wick is very important in candle making as a wick that is too large will result in "sooting" and too small will mean the wick will get drowned in a pool of wax.  Urban Rituelle candles have this ratio correct along with a coating to make sure the candle remains upright even after its been burning for a long period of time. We care about safety and this ensures the best burn possible. Added to this is the self Extinguishing wicks. This means the wick will self extinguish about 6mm from the bottom of the jar ensuring that the jar will not break because of the heat. Not only that but they also have self trimming wicks which keeps the flame at optimum size for the best burn, it increases your candle longevity and provides for your safety.  Formulated with certified organic ingredients and pure, gentle essential oils sourced straight from the garden we are thrilled to recommend this product and  assure you that Urban Rituelle uses the latest in premium glassware, wicks and wax.
Urban Rituelle have come up with some tips to get the most life out of your candle.
When you first light your new candle, let it burn for a couple of hours so that the wax melts across the entire surface to the sides of the jar. This will create an even burn for the duration of the life of the candle.
Keep your wick centered and trim the wick to 5mm to prevent soot from forming on the glass. (if soot does form on the glass wipe it off with a damp cloth when the candle is cool)
Burn your candle away from draughts as this will increase your burn time and stops uneven burning.
It's best to extinguish your candle with a snuffer as this stops smoking and hot wax from splattering.
Do not burn your candle for any longer than 4-5 hours at a time as extensive burning can lead to smoking, overheating and soothing.