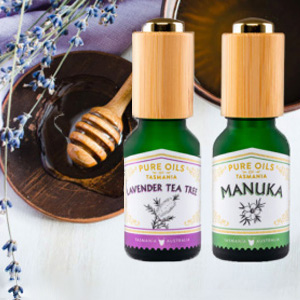 What sets them apart from other oils?
Have you wondered what the best essential oil brands are and who you should buy them from. They are good questions and its good to look for some important facts. Are the essential oils 100% pure and without chemical filler or additives or synthetics? Where are the oils sourced?
We are all committed to health and well-being especially during these stressful times. One of the best ways to minimize the harmful impact of stress on our bodies and mind is to take charge of other areas of our personal wellbeing. Essential oils are plant-derived volatile oils that have the aroma and other properties of the plant, and can be used in aromatherapy and to make perfumes.
Pure oils of Tasmania is a family run business founded in 2018. The oils are distilled and sourced in Tasmania.  They strive to sell the absolute finest quality of essential oils. All of their oils are certified organic. Pure oils of Tasmania have beautiful oils which are compounds extracted from plants. The oil captures the plants scent or essence. The way oils are made is important. For example Pure oils of Tasmania have a manuka oil which is known for the medicinal qualities. The oil is from foliage of a remarkable gum tree called Leptospermum Scoparium. It has an earthy fragrance that is useful for aromatherapy or as a decongestant or it works well on respiratory ailments. Manuka is antibacterial and it's a great antiseptic for cuts and abrasions. We recommend using it with a diffuser or in the bath. It is made from the same plant as manuka honey.
Many studies have shown that the smell of some essential oils can help with anxiety and stress. Lavender oil is also known to have a positive effect on our sleep habits. Essential oils are always added to a carrier oil. Just add 3 to 6 drops of essential oil per ounce of carrier. With essential oils, you can boost your energy levels, relieve a headache, calm your nerves, treat a variety of skin conditions, relieve sore muscles and joints, reduce stress and improve the feel and look of your skin and hair. Each bottle of oil from Pure oils of Tasmania comes in an individual bamboo case and has dropper included in the lid for easy use.