Essential Oils – Pure oils of Tasmania
What sets them apart from other oils?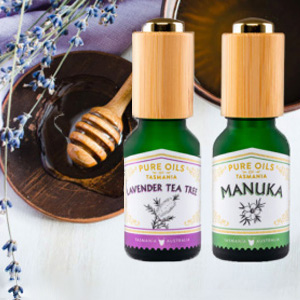 Have you wondered what the best essential oil brands are and who you should buy them from. They are good questions and it's good to look for some crucial facts. Are the essential oils 100% pure and without chemical filler or additives or synthetics? Where are the oils sourced?
 We are all committed to health and wellbeing, especially during these stressful times. One of the best ways to minimize the harmful impact of stress on our bodies and our minds is to take charge of other areas of our personal wellbeing.   Essential oils are plant-derived volatile oils. They have the plant's aroma and other properties and can be used in aromatherapy and to make perfumes.
Pure Oils of Tasmania is a family run business founded in 2018. The oils are distilled and sourced in Tasmania.  Pure oils of Tasmania strive to sell the absolute finest quality of essential oils. All of their oils are certified organic. Pure oils of Tasmania have beautiful oils which are compounds extracted from plants. They are a local Tasman Peninsula business. They create pure essential oil products from unique native Tasmanian plants. They are always looking for plants for their therapeutic qualities and aromas. 
The oil captures the plant's scent or essence. The way oils are made is important. For example, Pure Oils of Tasmania have a manuka oil that is known for its medicinal qualities. The oil is from the foliage of a remarkable gum tree called Leptospermum Scoparium. It has an earthy fragrance that is useful for aromatherapy or as a decongestant. It also works well on respiratory ailments. Manuka is antibacterial and it's an excellent antiseptic for cuts and abrasions. We recommend using it with a diffuser or in the bath. It is made from the same plant as manuka honey.
Many studies have shown that the smell of some essential oils can help with anxiety and stress. Lavender oil is also known to have a positive effect on our sleep habits. Essential oils are always added to a carrier oil. Just add 3 to 6 drops of essential oil per ounce of carrier. With essential oils, you can boost your energy levels, relieve a headache, calm your nerves, treat a variety of skin conditions, relieve sore muscles and joints, reduce stress and improve the feel and look of your skin and hair. Each bottle of oil from Pure Oils of Tasmania comes in an individual bamboo case and has a dropper included in the lid for easy use. Their products and packaging are designed to reflect the rich botanical history and flora of wonderful Tasmania. Pure Oils of Tasmania are different. They have responded to a world where people no longer want to be surrounded by harmful chemicals in their homes or on their skin or the environment. 
How to use Pure Oils of Tasmania
There are a number of exciting and interesting ways to use essential oils – some of our favourites are below:
Diffusers – this is an effective way to use essential oils through the office or your home. They can be moved into the bedroom at night and can help with sleep. It may also aid with cold and flu symptoms.
Body and Room Spray – Spritzers are a great way to utilize oils. It can be misted on the body or face for Hydrating refreshment or it can be used in rooms all around the house. Use in the bathroom or the bedroom for a purifying and reinvigorating effect. These aromatic spritzers have antibacterial qualities. You can choose a soft and sweet scent that is fantastic for the bathroom or kitchen. Carpets, rugs, bed linen or in the car are also great ways to use the spritzers.
Steam Inhalation – if you experience upper respiratory problems, colds, flu, ear infections, or sinus, this is beneficial to use essential oils. All you do is fill a large bowl with hot water, adding a small amount of essential oil (blue Gum would be perfect). Then place a towel over your head, all the while inhaling deeply. Always keep your eyes closed.
Bath – Adding essential oils to your bath works in two wonderful ways. First, the oils get absorbed in the skin and secondly, the oil gets absorbed in the skin, which has the effect of evaporation, causing relaxation. It is so easy to add a few drops of your favourite essential oils to your bath to feel the soothing effects.
Topically – It's a good idea to test a small part of your skin first as everyone's skin is different. Topical application is effective and a fantastic way to utilize the full qualities of essential oils as they can easily penetrate the skin. Pure oils of Tasmania are pure so they can safely be applied directly to the skin. Or you might like to add a few drops of the oil to a carrier oil.
Cleaning – Pure oils of Tasmania are a wonderful way to create a natural and chemical-free cleaning product. All the oils are antibacterial, antiseptic and they smell absolutely lovely. This makes pure oils of Tasmania a perfect addition to your cleaning products.
Summary
Pure oils of Tasmania produce wonderful essential oils that we are proud to sell. They are harvested and distilled in Tasmania. Pure Oils of Tasmania's essential oils are a reflection of the pure environment and the quality of life enjoyed by the Tasmanian people.