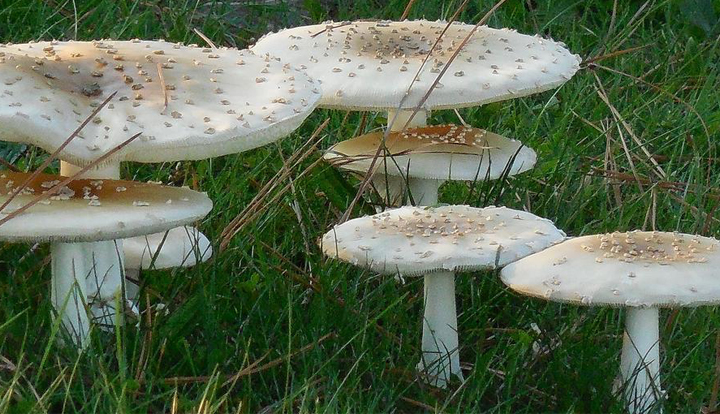 Mushrooms have long been considered a superfood with powerful nutrients. Almost every ancient civilization around the world at some time have used mushrooms for their healing properties, (in ancient Egypt, they were named 'the plant of immortality). What is interesting is that humans are closely related to fungi than to any other kingdom. Maybe this is why they are so good for us.
The word mushroom comes from the French word for fungi and moulds. It was back in 1650 that a Mellon grower near Paris found mushrooms growing on his growth fertilizer. He started to cultivate this exotic delicacy and to introduce it in exclusive Parisian restaurants, where they discovered that the caves around Paris were the perfect environment for growing mushrooms.
Before this time it is most likely that fungi had been cultivated around the year 600 in Asia.
The Netherlands has grown into the largest mushroom production country in Europe in the last 50 years. They have an annual production of 270million kilos, an industry which provides more than 10,000 jobs. China has the majority of growth, with a whopping 70% of the world's production.
Mushrooms are grown in compost. It is a mix of straw, poultry and horse manure, gypsum and heaps of water. With typically no chemicals being used. They mix the ingredients, then the fermentation process begins. The compost is covered with a top layer of a mixture which includes different types of peat and lime reside. It is imperative to have good casing soil for mushrooms to cultivate.
Lion Mane Mushrooms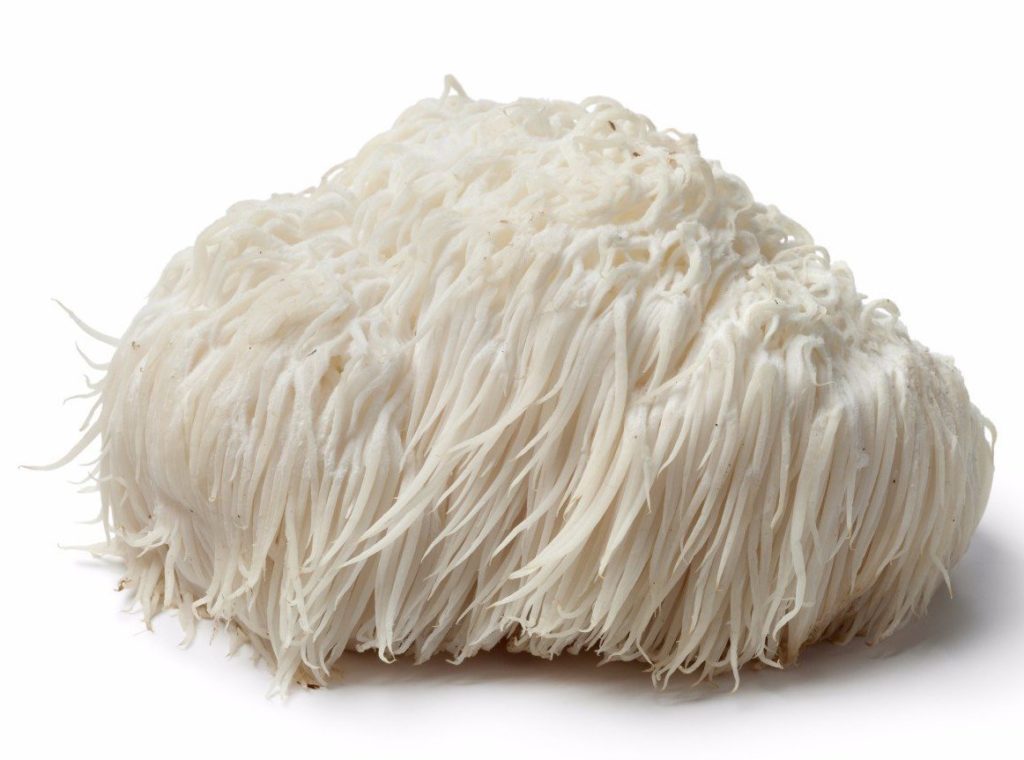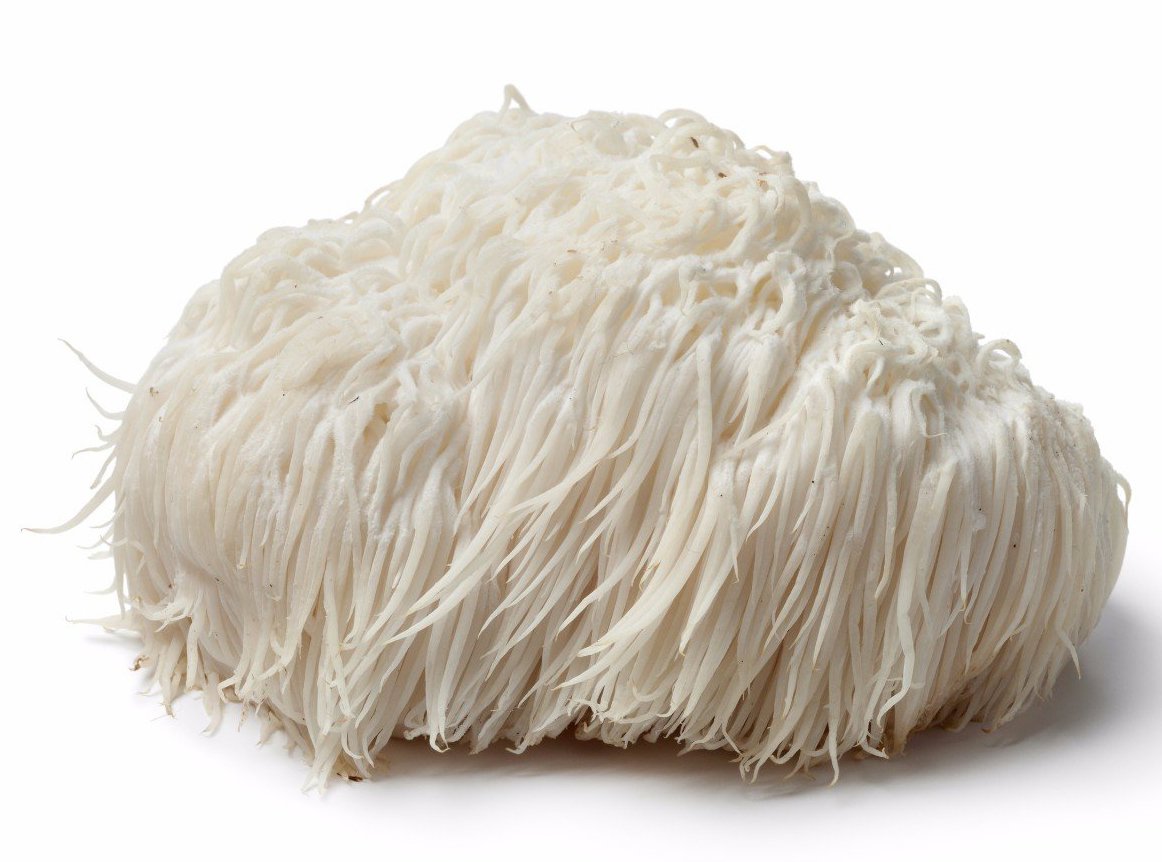 The Lion Mane mushroom is known as hou tou gu or yamabushitake. They are large and white. They resemble a lions mane as they grow and become shaggy. In Asia, they have both culinary and medical uses. They can be eaten raw or cooked and even steeped as tea. An easy way to eat them is as an over the counter health supplement. The taste has been described as "seafood-like". People compare them to lobster or crab.
Lion's mane mushroom and its extract are thought to be very good for us. More studies are needed on humans but already we can see a variety of health benefits that may occur:
• Fight against dementia – Lion mane mushrooms contain two compounds, hericenones and erinacines that can stimulate the growth of brain cells. Tests have been placed on mice with reduced symptoms occurring. This mushroom extract seems to boost mental functioning. This study was conducted on adults with mild cognitive impairment and improvement was seen while taking the extract.
• Depression and anxiety relief – research has found that lion's mane mushroom extract has an anti-inflammatory effect. Further studies have been done on mice with good effects. A small study was conducted on menopausal women which found that eating cookies that contained lions mane mushrooms for a month helped to reduce self-reported feelings of anxiety and irritation.
• Nervous system injuries might see a faster recovery – Research has found that lions mane mushroom extract may help speed recovery by stimulating growth and repair of nerve cells. The testing on rats has been very encouraging, with an increase in the recovery time of the nervous system by 23-41%. When Lion's mane mushroom extract was given to rats immediately after a stroke, the decrease in inflammation and the reduced size of stroke-related brain injury was reduced by 44%, which is incredible.

• Ulcers in the digestive tract – Lion's mane extract may protect against the development of stomach ulcers by inhibiting the growth of H. pylori which might protect the stomach lining from damage. More research is needed, but it is suggested that lions man extract may help.

• A reduction of Heart Disease risk – research shows that Lion's mane extract can influence some factors which might reduce the risk of heart disease. Studies in mice found that the extract improved fat metabolism and lowered triglyceride levels. After 28 days, the studies showed 27% lower triglycerides levels and 42% less weight gain. It's known that obesity and high triglycerides are both risk factors for heart disease. Lion's mane mushrooms contain hericenone B. this can decrease the rate of blood clotting and therefore lower the risk of stroke or heart attack.

• Inflammation and oxidative stress reduction – Lion's Maine mushroom contains a power antioxidant plus an anti-inflammatory compound which may reduce the impact of chronic illness.
• May help fight cancer – When DNA is damaged, it can cause cancer. Lion's mane mushroom has some unique compounds that research suggest might help in fighting cancer. More studies are needed, but in a test tube study, it showed that the cancer cells died faster. Another study showed in mice that tumour growth was reduced and had fewer side effects.

Fresh mushrooms are a healthy and delicious addition to our plates. Mushrooms provide many similar nutritional benefits that are found in vegetables and meats. Consuming more mushrooms or their extracts may be one of the most important foods you can eat to improve your health.
Check out our Lions Mane Liquid Extract Here
A couple of drops each day could aid with all of the above

CHAGA MUSHROOMS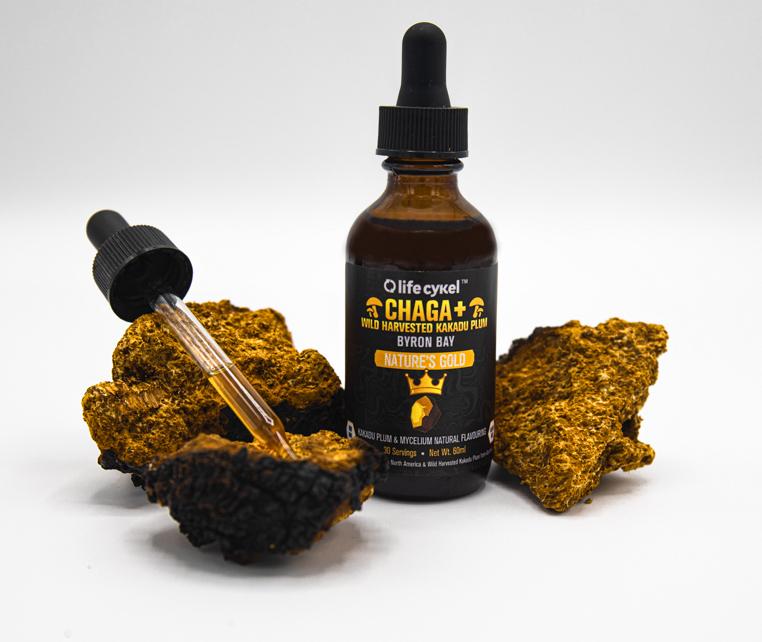 Chaga (Inonotus Obliquus) is packed full of adaptogenic betulinic acid, beta glucans, antioxidants and skin-protecting melanin. It is said to serve as an anti-aging, immune-boosting powerhouse! Chaga medicinal mushrooms are rich in antioxidants, which slow the production of free radicals in the body. This assists with cell renewal, which can help keep you looking and feeling young.
Most mushrooms grow out of the ground, but not Changa mushrooms. This fungus grows on the bark of birch trees in cold climates. For centuries Chaga mushrooms have been used as a traditional medicine in Northern Europe and Russia. Traditionally they would grate the mushrooms into a fine powder and then brew it as a herbal tea. On the outside Chaga mushrooms look like burnt charcoal. But on the inside, they are known as "black gold" because of their cork-like orange tissue.
What is impressive is that they have the highest antioxidant content of any food.
• Chaga Mushrooms can boost the immune system because they contain beta-glucans that increase host immune defence by activating the complement system, enhancing macrophages and natural killer cell function. They also promote the formation of cytokines (these proteins are the immune systems chemical messengers and stimulate white blood cells – which are the body's first responders to infections or viruses and bacteria.
• Chaga Mushrooms are the only superfood that's been shown to reduce inflammation. Chronic inflammation can lead to diseases such as heart, type 2 diabetes, cancer and Alzheimer's disease.
• Chaga Mushrooms has anti-cancer properties. We know that no food can prevent cancer, but studies have shown that Chaga mushrooms have strong anti-cancer properties. Especially regarding slowing the growth of certain types of cancer. The mushroom contains botulin which has anti-cancer properties. More studies are needed, but so far the results have been promising.
With plenty of science and research still undergoing we are sure it won't be long until mushrooms will once again have earned their place in the limelight as a nutritional must. We aren't the only ones Mad About Mushrooms, over the past couple of years multiple celebrities, scientists and nutritionists have begun endorsing them in great numbers.
Try our Chaga Biohacker set today and maybe you will feel the power of the mushrooms with a versatile range of mushroom extract to experience a better healthier version of yourself.
Summary

Since the dawn of time, mushrooms have been considered a superfood. Almost every ancient civilization around the world at some time have used mushrooms for their healing properties. They contain powerful nutrients that are extremely good for our bodies. Lion's mane mushroom and its extract are thought to be very good for us. It is said that mushrooms can help fight many modern ailments such as inflammation, stress, reduction of heart disease, ulcers, depression and dementia. The key to including more mushrooms in our diet is to try eating them in different ways. The taste of lion Maine mushrooms has been described as "seafood-like". People compare them to lobster or crab. They are as healthy as other vegetables and meats and are a wonderful way of increasing nutritional value to our diets. Mushrooms are rich in vitamin D, which, when it comes to strong bones, vitamin D is essential as it can help lessen our risk later in our life of developing osteoporosis. So let us add some mushrooms to our favourite stir fry or toastie. Or add them to a sauce beside a nice steak or chicken. They are delicious added to an omelette to start your day.